OCTOBER 7 – OCTOBER 20, 2018 ///// FORT WORTH, TX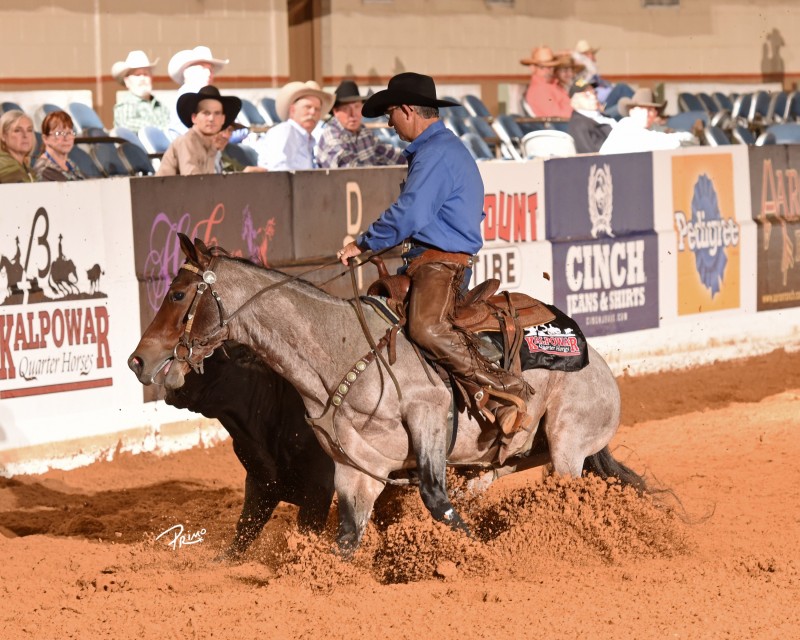 2017 Futurity Open Champion Jake Gorrell and Plain Catty (Bet Hesa Cat x Miss Plain Plain x Just Plain Colonel), owned by Kevin Cantrelle. Primo Morales photo
From humble beginnings in 1970, with a mere 27 entries, the National Reined Cow Horse Association Snaffle Bit Futurity has flourished into one of the most prestigious and exciting events in the Western performance industry. Many cow horse enthusiasts describe their first Snaffle Bit Futurity experience as the reason they became hooked on the spine-tingling sport. Hundreds of horses and thousands of fans from across the U.S., Canada and overseas make the journey to the Futurity each year.Thrills, and sometimes spills, abound as 3-year-old horses test their athleticism in a trio of demanding events: herd work, rein work and fence work. The reward for the best performance is the $125,000 first-place Open Championship paycheck, and the total payout for all the divisions at the show is expected to top $1.1 million. Other Futurity activities include the NRCHA Hall of Fame Banquet; the enormous Best of the West trade show; the Snaffle Bit Futurity Horse Sales; and horse show classes for horses age 4 and older.Limited Age Event Added Money totaling $606,419 includes $491,419 total added to the Open, Cinch Intermediate Open and Limited Open.  $100,000 is added to the Discount Tire Non Pro Futurity along with $5,000 added to the Level One Limited Open, the Amateur and the Non Pro Limited Futurity.
Horse Show Added Money totals $33,500 and includes a $7,000 Added Open Bridle and Open Hackamore and $3,000 added Non Pro Bridle and Non Pro Hackamore. Again this year is the Zoetis AQHA Ranching Heritage Challenge.
IMPORTANT TERMS & CONDITIONS UPDATE
3 Year Old horses may not have worked cattle in the Will Rogers Coliseum or other facilities at the Will Rogers Memorial Center prior to the NRCHA Snaffle Bit futurity. With the exception of when that work occurred as an entry in an approved NRCHA or NRCHA Alliance Partner (NCHA / AQHA / APHA) event.
2018 ENTRY INFORMATION
Progressive Entry – Next Payment Postmark Deadline 5/15/18
Slots – Second Payment Postmark Deadline 5/15/18
2018 Snaffle Bit Futurity Terms and Conditions – includes Futurity Entry Form

Show Schedule as of 4/5/18
CLICK HERE TO ORDER Stall Mats

** NRCHA Office will provide your stall assignment to the rental company.
Golf Cart Rentals from Metro Golf Cars / johnny@metrogolfcars.com
Phone: 817-921-5491 x101 / Cell: 682-478-8153 www.MetroGolfCars.com
HALL OF FAME BANQUET
2017 Hall of Fame Banquet Reservation Form
American Rope Horse Futurity
Trade Show Information
Fort Worth Things To Do
SLOTS FOR SALE

Open Slots
5/24: Monica Caetano – 559.349.1719
Non Pro Slots
None at this time. Please check back.

2019 Dates: TBD