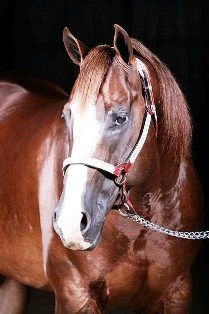 2006 – Smart Chic Olena also became an NRCHA Million Dollar Sire in 2004.
The NRHA Hall of Fame Member is a 1985 sorrel stallion by NCHA Triple Crown
Champion Smart Little Lena and out of the great producer Gay Sugar Chic, by
Gay Bar King. Smart Chic Olena is the only horse in history to win the AQHA
World Championship Show in both the Cutting and Reining. He is also the only
horse to win both the Open Championship Cutting and the Open Championship
Reining at the All-American Quarter Horse Congress. He began his career as a
cutter, earning more than $113,000, and then converted to reining at 8 years old
for further success.
As a sire, Smart Chic Olena has set new standards. His offspring excel in reining,
cutting and working cow horse, and have racked up well over $7 million in
combined earnings along with more than 17,000 AQHA Performance points. He
is the sire of A Chic In Time, 2004 NRCHA World's Greatest Champion and 2006
World's Richest Champion; Chocolate Chic Olena, which won the NRHA Derby
and Super Stakes; and Paid By Chic, which finished third at the NRCHA Snaffle
Bit Futurity. His presence as a superior sire of reined cow horses is eminent
thanks to NRCHA Snaffle Bit Futurity Open Champion, NRCHA Stakes and
NRCHA Hackamore Classic Champion Chics Magic Potion.