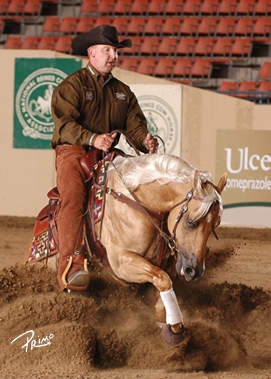 The National Reined Cow Horse Association Stallion Auction opens this Saturday, Nov. 30, and closes on New Year's Eve, Dec. 31, 2013.
Numerous leading sires from the Western performance horse industry are represented in the Stallion Auction, including NRCHA Million-Dollar Sires Mister Dual Pep and Very Smart Remedy; National Cutting Horse Association Futurity Open Champions One Time Royalty and Metallic Cat; NRCHA Snaffle Bit Futurity Open Champion CD Diamond; NRCHA Derby and NRCHA Stakes Champion Travelin Jonez… and many, many more.
Click here to browse and bid! The NRCHA Stallion Auction hosted by Perfect Horse Auctions will be active 11/30/13.
The Stallion Auction would not be possible without donated breedings from our NRCHA Breeder Sponsors and other generous stallion owners. We also greatly appreciate all of the buyers and bidders who purchase the stallion services. By shopping the auction or contributing a breeding, you are helping generate revenue for the NRCHA's events and programs. Thank you for your support!
Some administrative details: If you are a mare owner planning to bid on a stallion service, please be aware that the bid price overs the breeding fee ONLY.  You will be responsible for all additional fees (chute fee, shipped semen, etc) charged by the stallion owner/breeding facility.  Please contact the breeder for information on these fees prior to bidding.
If you have additional questions about the NRCHA Stallion Service Auction, please direct them to:
NRCHA Stallion Auction Chairman Garth Gardiner
email: GardinerGarth@gmail.com
1703 Hwy 160
Ashland, KS 67831
620-635-5632 cell
620-635-2156 office
620-635-2361 home